Belt-Fix Kits are available for all tractors with Kapton®(orange-brown) colored belts. The kit eliminates removal of the tractor(s) from the printer, as well as the disassembly of the tractor, because the Belt-Fix Kit permits fast and easy replacement of damaged, worn or broken belts. A broken belt can be replaced in minutes!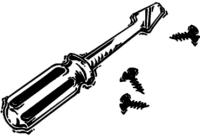 Instructions are so simple to follow that
anyone can replace a broken belt.

Click here for Tractors and
Belt-Fix Kits listed by Printer Model

Model 4224 Belt-Fix Kit Instructions
Model 6262 Belt-Fix Kit Instructions

If you are unable to identify your belt, need different parts, or if you have any questions regarding our Form Feed Tractors or Belt-Fix Kits,
please call a Customer Service Manager, who will be more than happy to assist you with your tractor and belt requirements.


Replacement Belts are available in four different sizes and several different styles. Count the number of pins on your belt to determine which belt you need to order (see below.).