Model 6262 Belt-Fix Kit Instructions

1. Turn printer off.
2. Remove broken belt and clean debris from the tractor wtih a stiff bristle brush.
3. Loosen belt tensioner by loosening the (2) center screws with washers (see figure.)
Caution: Do not loosen other screws on the tractor. This would destroy factory settings.
4. Press the adjustment end of the tractor towards the shaft and tighten the screws.
5. Orientate the hole in the belt with the direction of paper travel as shown.
6. Feed the belt around its track.
7. Apply small dots of glue on the pin end of the belt as shown.
8. Press the hole in the belt over the first pin. Hold in place for ten seconds.
9. Loosen the (2) center screws (with washers.) An internal spring will automatically tension the belt.
10. Tighten the (2) center screws (with washers.)
Caution: Read manufacturer's warning before using Loctite 495 adhesive. Avoid any contact with hands. Use a pencil or other device to press belt ends together during bonding.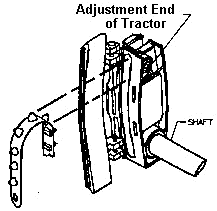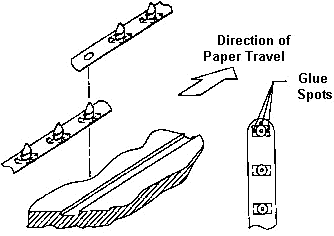 Click here for Model 4224 Printers

Please contact Customer Service for pricing and ordering information.

If you are unable to identify your belt, or need different parts, contact our Customer Service Department.